Overview
Flight Centre Travel Group is one of the world's largest travel agency groups and operates in 23 countries. It provides customers with a great range of products including flights, accommodation, cruises, experiences and many more. The Flight Centre mobile app allows users to easily find, compare and book flights, accommodation and access exclusive deals.
When a user makes a booking through Flight Centre they are provided a printed itinerary and there is no way to access the most up to date information about their bookings or any changes made. The goal of the Trips feature was to provide an itinerary solution for Flight Centre customers to view their up to date bookings in the app.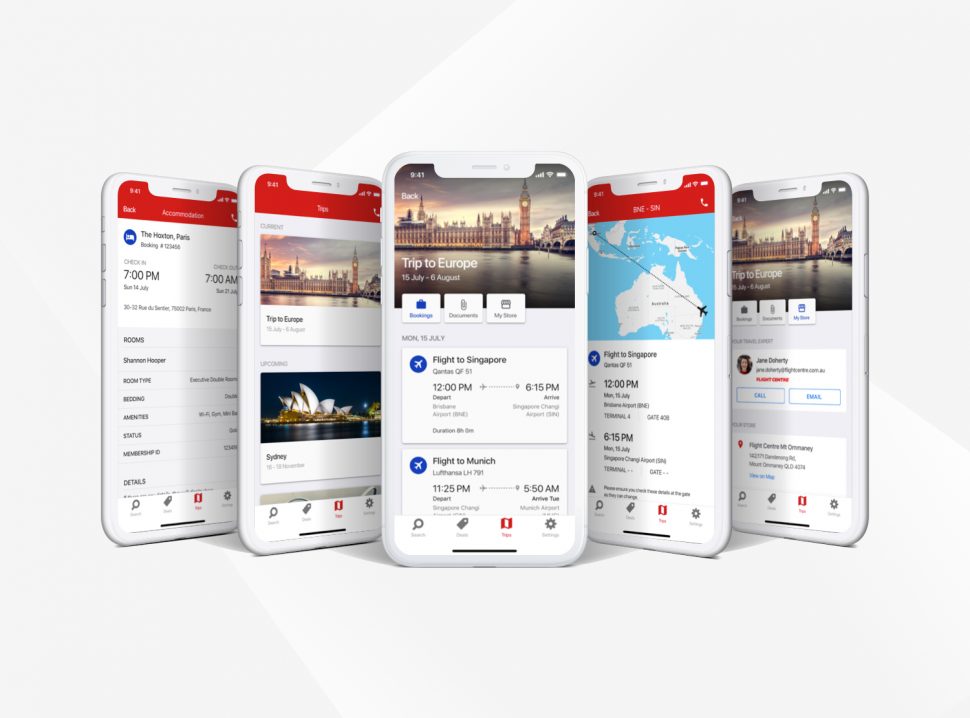 In past focus groups, Flight Centre found that one of their customer's biggest pain points was not being able to access their booking details while on their trip. They heavily used their mobile and tablets while travelling and there was a strong demand for a solution on their device. The Flight Centre Mobile App team were tasked with leading the trips solution for initial release, with additional channels such as web to be rolled out in a later phase.
Talia's role was to lead the user experience and design for the Trips itinerary solution. She collaborated and worked closely with the entire app team encompassing, Android and iOS developers, business analysts and project leads. The Trips project was conducted in a strict scope for Minimum Viable Product (MVP) release and vendor limitations.
Discovery
During the discovery phase, Talia defined the problem and scope of the project. She conducted app surveys, focus groups and analysed information gathered from those findings. She also reviewed any app store feedback and app personas to further understand traveller's pain points. Talia reviewed the vendor's feature set, to allow her to document any limitations and scope.
Research
The research phase involved conducting a competitor analysis to review what other key players in the industry were offering as an itinerary solution. She planned and conducted a design sprint with the team and stakeholders to generate ideas and concepts. This also helped to identify key features for the Trips solution.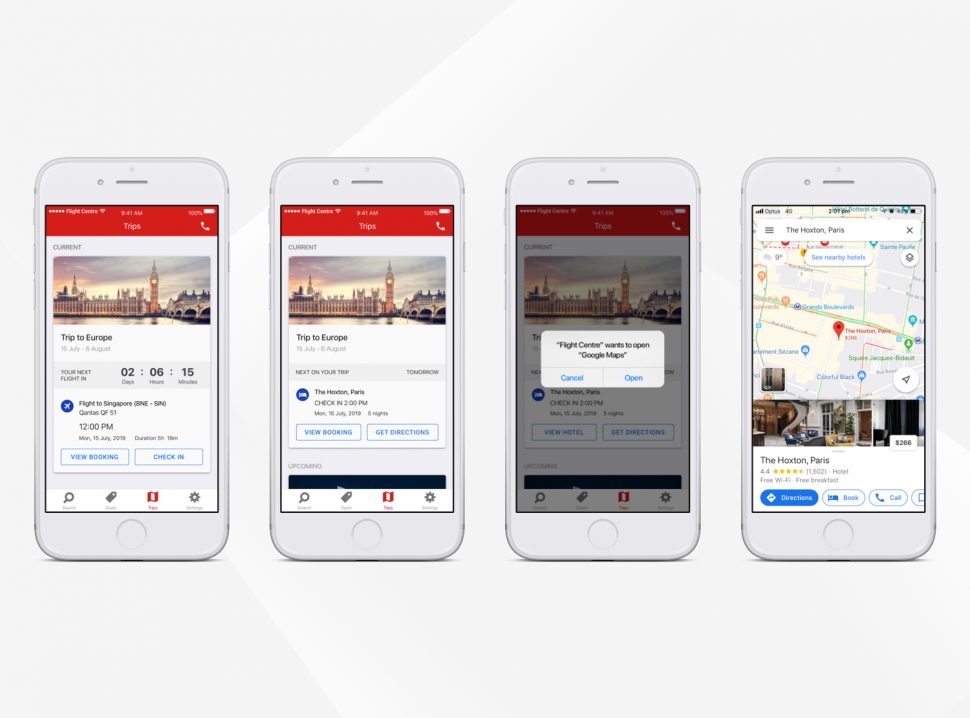 Ideate
In the ideation phase, Talia used all of the information she had gathered in past phases to map out complex user flows, including how a user authenticates and accesses their booked trips within the app. She designed wireframes for each interface, wrote UX copy and based on feedback, transformed them into high fidelity user interface designs. Each interface design also included customisation to meet iOS and Android platform guidelines. These included the trips list, booking details such as flights, hotels, tours and cruise. During this phase, Talia also explored the user experience around 'on trip' personalisation and alerts, and how a user can enable push notifications. She also planned out day planner features, and validated these early concepts in user testing sessions. Talia also designed concepts for upselling of ancillaries, and 'on trip' marketing campaigns. Through the whole iterative process, the designs were reviewed by the app team, fellow designers and other stakeholders for approval.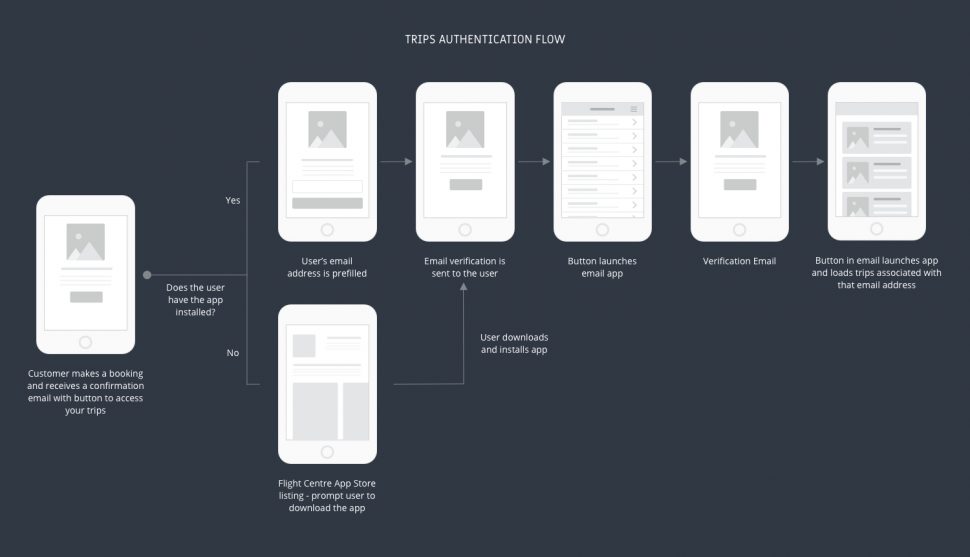 Prototype
The prototyping phase involved creating low fidelity UI prototypes in InVision, and also high fidelity prototypes using Protopie to create complex flows with conditional logic. These were used during testing sessions, any observations and results were recorded. Talia conducted user testing sessions, recruited participants, wrote screener questions and the user tests. She then analysed all the results and provided a written summary report for presentation to stakeholders.
Implement
During the implementation phase, Talia was responsible for handing over the design and experience to the mobile developers. She provided them with animated prototypes to demonstrate interactions, and guided them with feedback on adjustments to the overall experience. All iOS and Android builds were approved by Talia for adherence to the designs. Before deploying a build, she would also be responsible for any app store and marketing assets.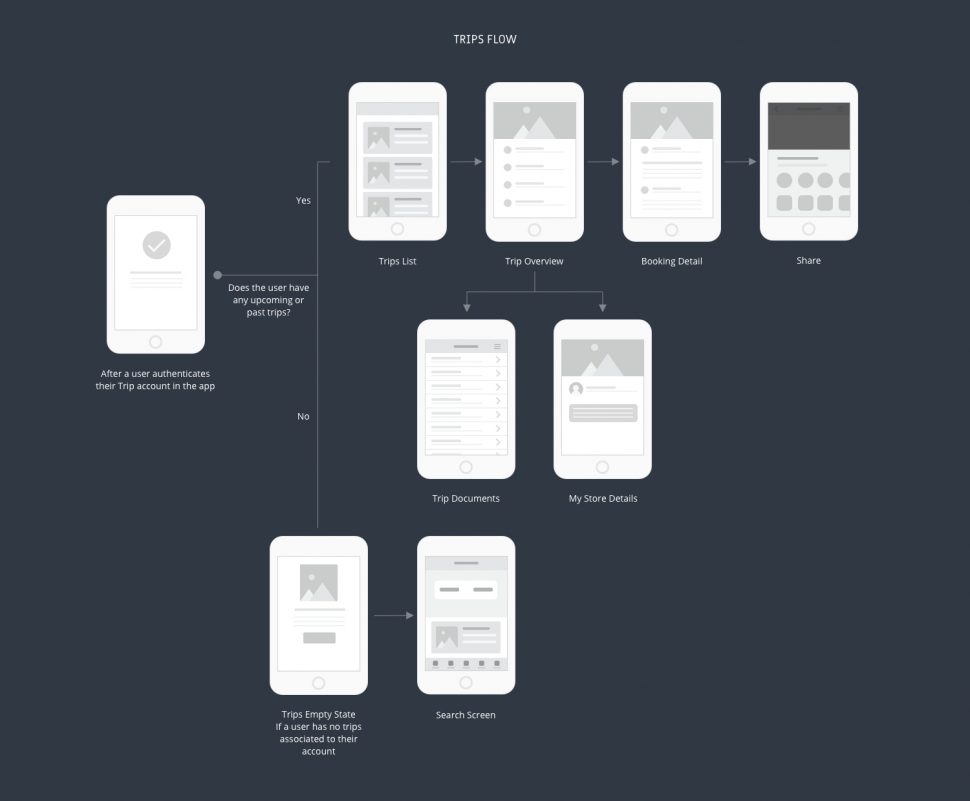 Iterate & Refine
After deployment, Talia implemented in-app Net Promoter Score (NPS) and Customer Effort Score (CES) surveys using Usabilla to gather feedback for improvements. She continued to review feedback from the app stores, stakeholders and multiple customer channels to iterate and improve the trips experience.

Outcomes
The Trips feature was released on iOS and Android, and contributed greatly to the Flight Centre travel experience. The project allowed the organisation to shape, validate and set a standard for rollout to other channels such as the website. It has been well received by customers and Flight Centre travel consultants. At the time of release, the trips feature provided over 80,000 customers with access to their itineraries in the app. Talia and the app team continue to iterate and refine the design and experience of the trips feature based on user feedback.